Welcome to the Time's Convert WikiEdit
An encyclopedic site by fans, for fans of Deborah Harkness' book Time's Convert.
Time's ConvertEdit
Time's Convert is set in the same universe featuring some of the characters from the All Souls Trilogy. With a publication date of September 2018, the book focuses on three storylines: 1. Marcus Whitmore, Matthew Clairmont's vampire son and the beloved of Phoebe Taylor; 2. Phoebe Taylor, who intends to become a vampire, and who is the beloved of Marcus; and 3. Diana Bishop, Matthew Clairmont, and their twins, Rebecca and Philip Bishop-Clairmont.
Visit the http://allsoulstrilogy.wikia.com/wiki/All_Souls_Trilogy_Wiki for lots of information about the author's related book series, The All Souls Trilogy.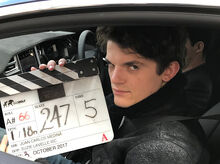 Historical Periods in Time's ConvertEdit
Traditional First Flag following the American Revolution: